Meatballs get a Mediterranean twist with fresh herbs, spices, and dairy-free tzatziki sauce.
Filled with fresh flavor, these simple meatballs pack in plenty of healthy protein and fiber. From piling on top of fresh greens to serving over cauliflower rice, the options are truly endless. Best part is, they're ready in under one hour and make for an easy weeknight meal.
For this recipe, we first combine pastured lamb with tangy herbs and spices like mint, oregano, and cumin. We then add a bit of fresh lemon zest to help balance out the fatty nature of the meat, while using almond flour to help bind the mixture together. Almond flour is naturally moist and absorbent, meaning it won't dry out your meatballs and will retain plenty of juicy flavors.
Trying to figure out exactly what to eat on Paleo? Look no further than our FREE 21 Day Paleo Meal Plan.
Grab Our FREE Paleo Meal Plan By Clicking Here!
To tie everything together, we drizzle a cool cucumber and cashew tzatziki sauce on top. This dairy-free sauce includes almond milk and soaked cashews mixed with zesty dill and garlic. Tip: For easy prepping, you'll want to make sure to soak your cashews in water ahead of time for at least six hours. This will help them plump up nicely so that you can effortlessly blend them together with the other ingredients.
The first step in this recipe is to combine all the meatball ingredients together in a medium mixing bowl. Use your hands to thoroughly combine and then form the mixture into twelve small balls (about the size of golf balls).
In a skillet, heat the avocado oil over medium-high heat for three minutes. Add six meatballs to the pan and cook for ten minutes, rotating the meatballs every two minutes. When the first batch is complete, remove and repeat with the remaining meatballs.
Next, return all the meatballs back to the pan and reduce the heat to medium-low. Cover and simmer for 10 minutes or until the meatballs are fully cooked through.
In the meantime, combine the tzatziki ingredients in a food processor and blend until smooth for about one minute. When the meatballs are finished, serve them hot over a bed of greens and chopped vegetables. Drizzle the tzatziki on top and complete your dish with sliced Paleo pita on the side. Serve immediately and enjoy!
Jennafer Ashley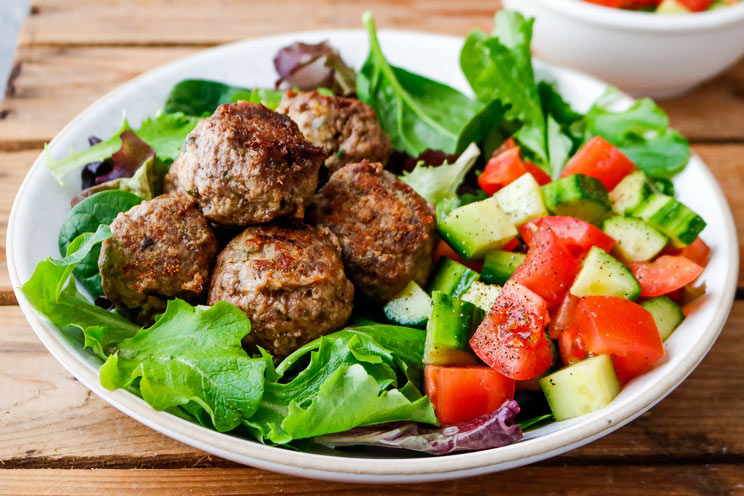 Total time:48 mins
Cook Time:33 mins 33 minutes
Prep Time: 15 mins 15 minutes
Mediterranean Lamb Meatballs with Paleo Tzatziki
Meatballs get a Mediterranean twist with fresh herbs, spices, and dairy-free tzatziki sauce.
Ingredients
For Meatballs:
Looking for Paleo ingredients? Here are a few we'd recommend:
Almond flour (Hodgson Mill)
Onion powder (365 Everyday Value)
Black pepper (Frontier)
Coarse sea salt (AztecSeaSalt)
Avocado oil (Bella Vado)
Raw cashews (Terrasoul Superfoods)
Garlic powder (Frontier)
(You'll Also Love: Pork Banh Mi Meatballs)